Roles: Tank, Support
How to get: Campaign, Heroic Chest
Artifact #1: Armor
Features: Can revive an ally or himself only once, easy to get, he fit to any team so pretty safe choice
Pets: Oliver, Axel, Biscuit
Overview
He is a hero who joins you very early in the game, in the tutorial, and can be useful for a long time until the end of the game, so if you want to play the game with cost performance, I think Astaroth is a good choice as your main tank. Especially if you are a F2P(Free to Play)player, Astaroth is the best choice.
He's pretty weak in the early game, but never mind.
Astaroth is a fragile hero at the beginning of the game because of many reasons. First, the luck of useful skills on early game(his best skill is 4th skill) and also, in the beginning, maybe you don't know what status you should upgrade.
Perhaps as you play through the game, you'll find yourself thinking, "He(This site) recommends Astaroth, but he's so weak. Is he going to be that strong? "
Yes, he can be one of the best Tanks in the middle to end game.
In the early game, you don't have many heroes, so you may have Galahad behind Astaroth as double tanks, which is another reason why you may have doubts about Astaroth's strength.
Galahad is also not that tough, but since Astaroth is always attacked in the first position and down first so people may think that Astaroth is fragile.
There are many cases where the campaign becomes two stars instead of three stars because of Astaroth's death, so many people may start to wonder if Astaroth is strong or not. (I was the same.)
But don't worry, Astaroth is strong after improving Armor status properly. When I counsel about teams on the forum or discord, I often recommend Astaroth as the main Tank than Cleaver, Aurora, or Corvus.
Perhaps another reason for the suspicion of Astaroth's weakness is his third skill (that is, passive skill) activates on its own when he turns blue. This will be explained in the skills section.
There are four advantages to using Astaroth.
You can get him during the tutorial (= you can concentrate your resources to long-term tank from the beginning)
You can also get soul stones in the early campaign (= easier to raise his stars)
The 4th skill, revive, is sooo useful
Skill #3 absorbs the damage from DPS, who are more likely to die
I will explain each of them later.
Status
Here are the stats at level 130, Red +2, with all equipment, skins, artifacts, etc. maxed out (Excluding Asgard)

Power: 136,934
Intelligence: 3,402
Agility: 3,065
Strength: 13,019
Health: 804,065
Physical Attack: 21,949
Magic Attack: 53,317
Armor: 34,874
Magic Defense: 25,827
With Asgard Status

Power: 174,493
Intelligence: 3,402
Agility: 3,065
Strength: 15,229
Health: 1,073,375
Physical Attack: 29,160
Magic Attack: 62,777
Armor: 48,642
Magic Defense: 39,969
Note that the "Luna skin" increases Magic Attack in the browser version and Magic Defense in the mobile version. The list is based on the browser version (hero-wars.com/fb).
Skills
White: Flame Veil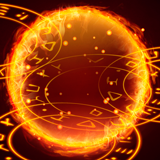 JCasts a shield that blocks physical damage on the entire team. The shield's capacity is shared between all team members.
Shield capacity: 76,777 (100% Magic attack + 100 * Skill Level + 1,000) damage
Deploys a shield that prevents physical damage. The remaining Health of the shield is displayed as a white bar below the Health, and the damage is shared by the entire team. Even if you max out the status, the damage he can prevent is only 76777, so it's not that powerful.
In comparison, Jorgan's second skill can prevent 64,145 damage against all damage attributes (physical, magical, and pure), so considering the number of times it can be activated, Jorgan's shield is superior.
So, you shouldn't expect so much from this skill.
Green: Devastation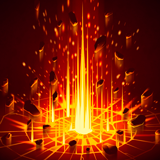 Astaroth spews a flare of hellfire, burning up some of the energy accumulated by the furthest enemy.
Energy burned: 38 (0.1 * Skill Level + 25)%
If the opponent's level is above 130, the chance to burn their energy is decreased
Cooldown: 16 seconds
This is a skill that lowers the energy (the bar you save for the first skill) of the farthest enemy. This is not a very useful skill since the DPS you want to reduce the energy of are not often at the end of the line.
Blue: Demon's Allegiance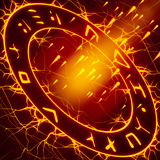 Passive skill. Astaroth maintains a connection with the ally who has the least health left and takes on a part of the physical damage inflicted against that ally. The transferred damage is also reduced.
Transfers 48 (0.1 * Skill Level + 37)% of physical damage
An extra 34.5 (0.15 * Skill Level + 18)% is subtracted from the transferred damage
This is a beneficial skill.
It's a passive skill that allows Astaroth to take the physical damage of the lowest health hero instead.
At 130 skill level, you can have Astaroth take 48% of the damage, which is almost half of the damage.
DPSs are basically easy to die, so having this passive skill active all the time will overwhelmingly increase the chance of survival for DPSs and other fragile characters.
Conversely, this skill is always active from the moment the color turns blue, so if you don't know about this skill, you might think, "Astaroth is so easy to die, damn, he is such a bad tank."
In the video, you can see Astaroth taking the damage of Sebastian, whose HP is at its lowest. The damage that Sebastian should have taken was originally 25138, but it is now 13072 damage after subtracting 12066 (48%) damage.
Violet: Last Word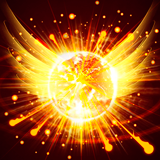 Once per battle, Astaroth resurrects a fallen ally (or himself).
Extra health after resurrection: 100,277 (100% Magic attack + 250 * Skill Level + 15,000)
Duration: 2 seconds
This is a skill for resurrecting. This skill can only be used once during a battle but is extremely useful.
There are a few cases where a character will go down again immediately after being resurrected because of the low recovery amount of Health. But since fragile heroes usually have high firepower, sometimes the DPS resurrected by this skill will be the clincher of the battle.
Investment Priorities
Skin priority
Browser version: Barbarian >>> Cybernetic >>= Default >> Devil >> Lunar
Mobile version: Barbarian >>> Lunar > Default > Devil
Note that the status affected by Lunar skin is different between mobile and browser versions.
In the mobile version, it's Magic Defense, so it's beneficial, but in the browser version, it's Magic Attack, so it's not a high priority.
The Barbarian is the top priority on both platforms, so I recommend getting the Barbarian up to level 60 and then getting the Lunar skin on mobile. For the browser, Barbarian is followed by Cybernetic.
However, if you are a non-paying player, it is better to start with the default skin.
Glyphs Priority
Armor > Magic Defense >> Strength >= Health >> Magic Attack
Astaroth is a tank, so his Glyphs priority are Armor and Magic Defense. Magic Attack does not need to be prioritized that high. It affects the power of his skills, but the Magic Attack value that Astaroth gains by Glyphs does not have a fatal effect in battle. It would help if you waited to upgrade it until you have finished upgrading other heroes like DPS's major Glyphs before upgrading them.
Artifacts Priority
2nd > 1st > 3rd
#2 is by far the most important priority.
#1 is also important, but it's fine to upgrade it after upgrading the DPS Penetration artifact.
As for #3, I'm not sure. There is nothing wrong with upgrading it, but it is better to do it after DPS's Artifacts.
Astaroth's Teams and Combos
Astaroth fits in well with any team, not only physical and magic teams but also critical and pure teams. He is a kind of universal Tank.
I think you can maximize the advantage of using Astaroth by combining it with high firepower DPS. In this game, DPS with high firepower can easily be down, so the combination of "Astaroth + DPS with high firepower who can easily be down" is the best combination.
Roles: Tank, Support
Soul Stones: Campaign, Heroic Chest
Artifact #1: Armor
Features: Can revive an ally or himself only once, easy to get, he fit to any team so pretty safe choice
Pets: Oliver,Axel, Biscuit
He is a hero who joins you very early in the game, in the tutorial, and can be useful for a long time until the end of the game, so if you want to play the game with cost performance, I think Astaroth is a good choice as your main tank. Especially if you are a F2P(Free to Play)player, Astaroth is the best choice.