This table shows the percentage of how much damage can be reduced by the Defender's defense (Armor/Magic Defense) after subtracting the Attacker's PEN (Penetration)
The following article explains more about damage calculation, so if you haven't read this article yet, please read this one and then check out this table.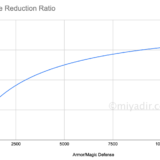 Relationship between Attack, Defense, and PEN and the amount of damage (damage calculation formula)
At this table, up to 12,000 is 100 increments.

About the maximum number of this table (100,000)
This table assumes that Luther's max amount of armor is 38,068(he has highest Armor in the game) for the fb/web version (LV130, Red+2, Glyph+50), plus two artifacts #1 (+32040) activated at the same time.
Those totals are 102,148 armor, so seeing up to 100,000 is enough I think.
*But in a normal attacking team, someone will always have PEN on Stats or Artifacts, so the defense will hardly ever reach actual 100k Armor/Magic defense after PEN subtraction.

Armor/Magic Defense
- Attacker's Pen
Damage Reduction Rate
Investment Efficiency per 100
0
0.0%
100
3.2%
3.226%
200
6.3%
3.024%
300
9.1%
2.841%
400
11.8%
2.674%
500
14.3%
2.521%
600
16.7%
2.381%
700
18.9%
2.252%
800
21.1%
2.134%
900
23.1%
2.024%
1000
25.0%
1.923%
1100
26.8%
1.829%
1200
28.6%
1.742%
1300
30.2%
1.661%
1400
31.8%
1.586%
1500
33.3%
1.515%
1600
34.8%
1.449%
1700
36.2%
1.388%
1800
37.5%
1.330%
1900
38.8%
1.276%
2000
40.0%
1.224%
2100
41.2%
1.176%
2200
42.3%
1.131%
2300
43.4%
1.089%
2400
44.4%
1.048%
2500
45.5%
1.010%
2600
46.4%
0.974%
2700
47.4%
0.940%
2800
48.3%
0.907%
2900
49.2%
0.877%
3000
50.0%
0.847%
3100
50.8%
0.820%
3200
51.6%
0.793%
3300
52.4%
0.768%
3400
53.1%
0.744%
3500
53.8%
0.721%
3600
54.5%
0.699%
3700
55.2%
0.678%
3800
55.9%
0.658%
3900
56.5%
0.639%
4000
57.1%
0.621%
4100
57.7%
0.604%
4200
58.3%
0.587%
4300
58.9%
0.571%
4400
59.5%
0.555%
4500
60.0%
0.541%
4600
60.5%
0.526%
4700
61.0%
0.513%
4800
61.5%
0.500%
4900
62.0%
0.487%
5000
62.5%
0.475%
5100
63.0%
0.463%
5200
63.4%
0.452%
5300
63.9%
0.441%
5400
64.3%
0.430%
5500
64.7%
0.420%
5600
65.1%
0.410%
5700
65.5%
0.401%
5800
65.9%
0.392%
5900
66.3%
0.383%
6000
66.7%
0.375%
6100
67.0%
0.366%
6200
67.4%
0.358%
6300
67.7%
0.351%
6400
68.1%
0.343%
6500
68.4%
0.336%
6600
68.8%
0.329%
6700
69.1%
0.322%
6800
69.4%
0.316%
6900
69.7%
0.309%
7000
70.0%
0.303%
7100
70.3%
0.297%
7200
70.6%
0.291%
7300
70.9%
0.286%
7400
71.2%
0.280%
7500
71.4%
0.275%
7600
71.7%
0.270%
7700
72.0%
0.265%
7800
72.2%
0.260%
7900
72.5%
0.255%
8000
72.7%
0.250%
8100
73.0%
0.246%
8200
73.2%
0.241%
8300
73.5%
0.237%
8400
73.7%
0.233%
8500
73.9%
0.229%
8600
74.1%
0.225%
8700
74.4%
0.221%
8800
74.6%
0.217%
8900
74.8%
0.214%
9000
75.0%
0.210%
9100
75.2%
0.207%
9200
75.4%
0.203%
9300
75.6%
0.200%
9400
75.8%
0.197%
9500
76.0%
0.194%
9600
76.2%
0.190%
9700
76.4%
0.187%
9800
76.6%
0.185%
9900
76.7%
0.182%
10000
76.9%
0.179%
10100
77.1%
0.176%
10200
77.3%
0.173%
10300
77.4%
0.171%
10400
77.6%
0.168%
10500
77.8%
0.166%
10600
77.9%
0.163%
10700
78.1%
0.161%
10800
78.3%
0.159%
10900
78.4%
0.156%
11000
78.6%
0.154%
11100
78.7%
0.152%
11200
78.9%
0.150%
11300
79.0%
0.148%
11400
79.2%
0.146%
11500
79.3%
0.144%
11600
79.5%
0.142%
11700
79.6%
0.140%
11800
79.7%
0.138%
11900
79.9%
0.136%
12000
80.0%
0.134%
13000
81.3%
0.125%
14000
82.4%
0.110%
15000
83.3%
0.098%
16000
84.2%
0.088%
17000
85.0%
0.079%
18000
85.7%
0.071%
19000
86.4%
0.065%
20000
87.0%
0.059%
25000
89.3%
0.047%
30000
90.9%
0.032%
35000
92.1%
0.024%
40000
93.0%
0.018%
45000
93.8%
0.015%
50000
94.3%
0.012%
55000
94.8%
0.010%
60000
95.2%
0.008%
65000
95.6%
0.007%
70000
95.9%
0.006%
75000
96.2%
0.005%
80000
96.4%
0.005%
90000
96.8%
0.004%
100000
97.1%
0.003%